Wake up – mit der Musikerin Iris Camaa [live]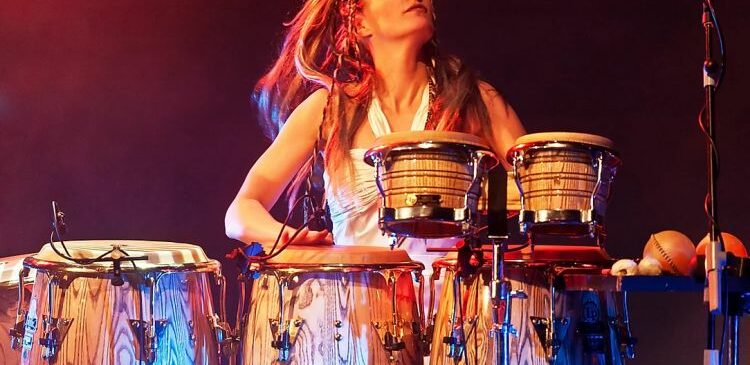 Wake up – mit der Musikerin Iris Camaa [live]
Wake up mit der Musikerin Iris Camaa [live]
Some people say that she is like a ray of sunshine that brightens up the music and lights up the stage…
IRIS CAMAA
Her unconventional songs bear her unmistakable signa- ture: a combination of complexity, lightness and rhyth- mic sophistication. The lyrics speak of daily madness, gender warfare, deep emotions and spiritual experien- ces. Like a spiritual embrace – touching, moving and remaining with herself – Iris Camaa casts a spell over the audience with her luminous personality.
IRIS CAMAA is award winner for "Best Soul/R&B" album "IRISISTIBLE" in Los Angeles that has a clear tendency to funk, soul and hip hop. The tunes are aimed at groovy with a touch retro inspired by her former hip hop influences as a dancer. The collaboration, w Grammy winners Justin Stanton and Mark Lettieri (both Snarky Puppy) and Raper J.R. Robinson make it even more unique.
IRIS CAMAA ́s second award winning release "SNAPSHOT" is a soulful reflection of her inner heart – genuine touching R&B. She has a truly remarkable voice that seems to get right into your bloodstream. The com- bination of her singing and playing percussion have all come together in a joyous outpouring of pure creation. When she sings, the sensations of music flows through her out to her audience and back again.
Iris Camaa has to be seen, heard and experienced in order to grasp its musical and energetic potential. She is a music cosmopolitan and clearly an artist. Her incredibly versatile and a joy of life turned into music. The magical atmosphere that she exudes on stage, as well as her sunny, energetic nature, make every live concert an experience in itself. Sometimes she sweeps energetically across the stage, shakes percussion solos out of her sleeve and raps. Sometimes she interprets in such a sen- sitive and touching way, withdraws in ballads and animates the audience in a way that leaves no one indifferent.
Austrian born IRIS CAMAA, began as a choreographer and dancer. A highlight was to open shows for incredible acts like Michael Jackson and Dionne Warwick w Steve Nick. Camaa's career simply unfolded as her love for rhythm evolved through percussion, dance, and singing. She grew up listening to Latin and American soul music. Iris started taking percussion lessons in Brazil, Europe and Cuba. Her Brazilian mentor encouraged her to start her professional music career.
In 2000, Iris Camaa started her own project together with Cuban producer and bassist Ivan Ruiz Machado and Cuban guitarist Ariel Ramirez. Since 2003 this project has been an impressive reflection of her sound cosmos, who has also been recorded on numerous albums which where held with hymns of praise. Iris performed sever- al times in Cuba at the International Jazz Plaza Festi- val with her own project IRIS CAMAA BAND as well as in NYC.
She has created a new style called "JRS" – Jazz, Rhythm and Soul – combining soulful music with Cuban and Brazilian rhythms, voice mantras, groovy jazz riffs and soulful voicings.
A tremendous boost to her career brought Iris Camaa an invitation to join the legendary seven-times Grammy-nominated group TANGERINE DREAM as a percussionist, drummer and singer. Since 2000, nume- rous tours have followed across Europe, Canada, Japan and the USA as well as innumerable DVD recordings at incredible venues like Royal Albert Hall, UCLA Hall, IZU Festival Japan, Olympia Hall France… At the Best Buy Theater concert in New York City, Iris Camaa even made it to the front page of the prominent New York Times. One of the highlights was a cooperation with Brian May (Queen) at Starmus Festival Tenerife and a concert in NYC directed by grammy award winner OM ́MAS Keith w Tan- gerine Dream, Alchemist, Woody Jackson.. to release the score live of GTA 5 Rockstar Games.
Colorful people love lots of variety 🙂
Iris Camaa does not want to be defined as only a singer or a percussionist, a photographer or composer, or if she prefers to dance or to paint. In her world all of these things are one – like a puzzle put together piece by piece when you let boundaries flow into each other. She belie- ves that Artists define and reinvent themselves every day no matter where the inspiration comes from.
During a shoot, she got the idea for her unique fan fashion collection. For those who want fresh colors and style instead of the dreary every day cloths one of Iris Camaa ́s cheeky things could become a hip and loyal companion through everyday life.
In order to keep herself motivated even in times of a pan- demic, she reinvented herself in another way. Vintage facelift by Camaa is her new passion. In the age of sustainability, she paints and upcyles period furniture and gives it her unmistakable signature. In addition, her love for acrylic painting has re-emerged at the same time. Get a comprehensive picture of her creativity on www.camaa-art.com .
Iris sees every piece itself as a unique work of art that beautifies the life of its owner. Her music, art and fashion is colorful and not for wallflowers!
Moderation: Wake up Team
Stay tuned!