Wake up mit der Band Nelio und Sänger Marc Miner [live]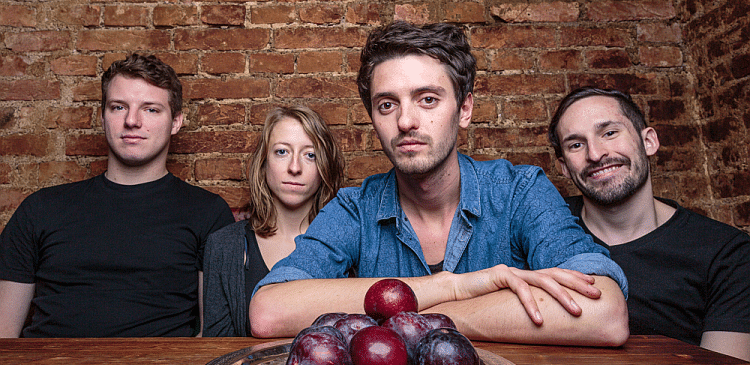 Wake up mit der Band Nelio und Sänger Marc Miner [live]
Zu NELIO:
Hätte der neue Sound von Nelio eine Farbe, wäre er irgendwo zwischen dunkelblau und blutrot zuhause. Tanzbarer Mundart-Pop mit Tiefgang, bei dem man nach den ersten Klängen nicht wirklich Dialektmusik erwarten würde. Diese Veränderung des Sounds liegt sicherlich auch an den Inputs des neuen Produzenten Mario Fartacek (Mynth), mit dem die Band seit kurzem zusammenarbeitet.
Die Texte sprechen einem aus der Seele und beschäftigen sich mit Themen, die wir alle kennen. So fühlt man sich schnell angesprochen,abgeholt und mitgenommen. Wer versucht nicht manchmal durch innere Slogans wie "Ruhig Bluad" oder "Oba vom Gas" das Tempo raus zu nehmen?
Die Mundart-Pop Band Nelio wurde 2015 von zwei Salzburgern, einer Irin und einem Kolumbianer in Wien gegründet. In den ersten Jahren des Bestehens wurde viel mit verschiedenen Sounds und Stilen experimentiert, was auf den beiden bisher veröffentlichten Tonträgern "Wolken Schaun'" (2016 PBR/ EP) und "Neiche Wege" (2018 PBR/ Album) zu hören ist. Nicht nur im Österreichischen Fernsehen ist die Musik von Nelio in den letzten Jahren angekommen (Puls 4 Musiktipp, Soundtrack "Bauer sucht Frau" Trailer), neben vielen Konzerten in Österreich und Deutschland hat Anfang des Jahres 2019 eine Kolumbien-Tour die Band bis nach Südamerika geführt. Mit der EP "Von Ebbe und Flut" erschien im November 2020 (PBR) neben ihrem politischsten auch ihr musikalisch bisher facettenreichstes Werk.
Zu Marc Miner:
When you think of alternative-outlaw-country-rock and americana music you probably think of USA,
maybe Canada. So, Marc Miner is the European outpost. While Nashville is considered the "city of music"
in the USA, Marc settled down in the European version of it: Vienna, Austria! As if that weren't enough
Marc is also an international breed: His father from USA met Marc's mother from Germany in Poland.
That's also where Marc was born, before the family had to leave the country. They moved to Vienna, where
Marc grew up and where he started his first bands ranging from rock n roll, rock to even punk and grunge
– which at that time was the "teenage sound of revolution".
By the age of 16 the rebelling Marc Miner decided to leave home. He traveled through Europe, got a job
on board of a container ship and arrived in the USA in 2000. Impressed by the lifestyle of the South, the
prairie, the Appalachian and Rocky Mountains and the melodies he heard there he decided to stay.
Unfortunately, life isn't a free ride so beside his music jobs he also started to gamble, which finally got him
to jail. Marc was accused of illegal gambling, forging and other "trivial offenses" as he calls it. With some
help from his father's influential friends the US authorities finally amnesty Marc, but he had to leave this
wonderful country.
Back in Europe he finally settled down in Vienna. Here he does what he can do best: playing music in front
of a bigger and smaller crowds or recording and producing songs for the outcasts, misfits, losers and brokenhearted
Moderation: Wake up Team
Stay tuned!